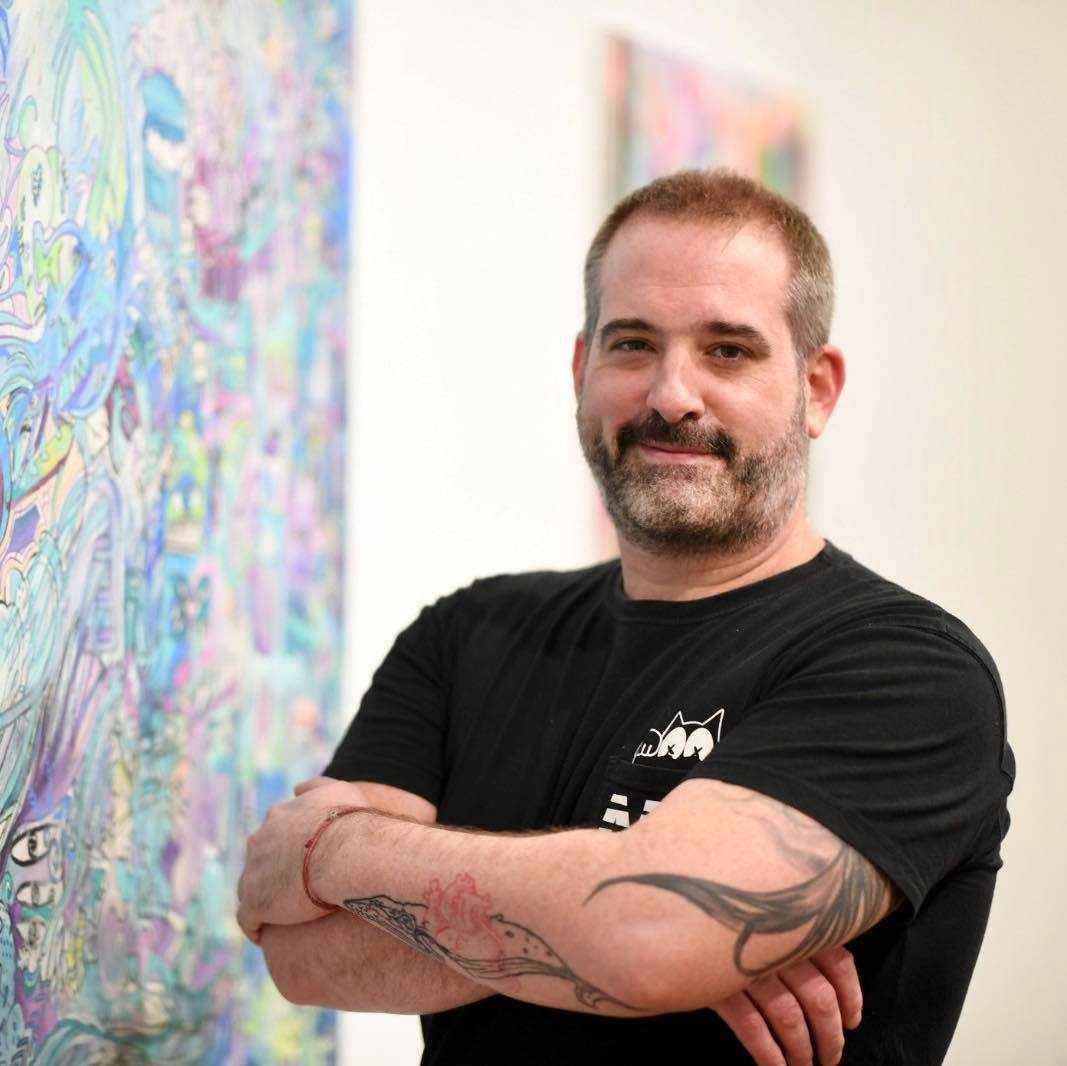 Sebastian Boesmi is a contemporary artist whose works are characterized by their innovative approach and ability to explore complex and profound themes through painting, drawing, light sculpture, and video art. Born in Salta, Argentina in 1980 and emigrated to Paraguay at the age of 5, Boesmi focuses on themes such as transformation, nature, identity, and the relationship between humanity and the environment.
The artist develops a characteristic and personal style, constantly nurtured through his daily experiences and observations. According to the artist: ̈My work is very similar to my life. They are images full of intimate experiences, with a kind of very personal rhythm and cadence that speak of migration and movement, the relationship we have with technology and nature, and the profound need not to forget the playful, aesthetic, and pleasurable dimension of Contemporary art
In the last 15 years he lived and worked in Paris, France (Atelier at the Cité International des Arts) Barcelona, Spain (Atelier at the Tuna boat) Berlin, Germany (Atelier at Marma Art Projects and Milchoff) Amsterdam, Netherlands (Atelier at Boonte Zwam ) Miami, Florida, ( Atelier in Design District) New York, N.Y.C. ( Atelier at The Art Students League of New York ) Johannesburg, South Africa ( Atelier at August House ) and currently in Madrid, Spain ( Atelier at Taller Madera Malasaña )
Boesmi received different recognitions for his artistic work, citing the Henri Matisse Award from the French Embassy in Paraguay, the Marma Art Projects Scholarship in Berlin, Germany and was part of the XVII Bancaja Selection in Valencia, Spain. He has had numerous group shows and 20 individual exhibitions in art galleries and institutions in America and Europe to date.
He exhibited his works mainly in galleries and museums in Spain, France, Paraguay and Argentina, citing the Casa de América in Madrid Spain, the Valencian Institute of Modern Art (I.V.A.M.) in Valencia Spain, the Espai.B Art Gallery in Barcelona Spain , the SWAB International Contemporary Art Fair in Barcelona Spain, the Hebert Art Contemporain Art gallery in Paris France, the Proyector festival in Sala Alcalá 31 in Madrid, Spain, and the Borges Cultural Center in Bs. As., Argentina. In Asunción, the exhibitions carried out in art galleries such as Matices gallery, Fabrica gallery, Casa Mayor gallery, Verónica Torres gallery, Migliorisi Foundation, National Museum of Fine Arts, Museo del Barro, Citibank Cultural Center among other important Institutions.
The artist complements the creation with the investigation; years ago he graduated with a Bachelor's Degree in Visual Arts from the National University of Asunción, Paraguay, and completed a Master's Degree in Research in Art and Creation from the Complutense University of Madrid, Spain. He teaches experimental art workshops in Asunción and Madrid and is a founding member of A.V.I.S.P.A. (Association of Visual Artists of Paraguay).
foto: Frank Lee